---
Our kennel was founded in May 2007. It has been already 10 years we have been living with the Dobermann like a family member and 3 years I have been studying all about this amazing breed. 
We live in the middle of the heart of Europe, in the Czech Republic, near the capital city; the beautiful Prague. We have two Dobermann females at home at the moment: Kelly Černý trůn (Ch. Nathan z Cyklonu Silesia x Jilly Černý trůn) and her daughter from our Litter A- Afrika Coldplay (Ich. Grant di Villa Conte x Kelly Černý trůn). In co-ownership we also have one Dobermann male Beppe Star of Bedea (Ch. Tahi-Réme Diablo x Ariella Moravia Heart). This boy will be never used as a stud dog, unfortunately he has a cardiac atrophy.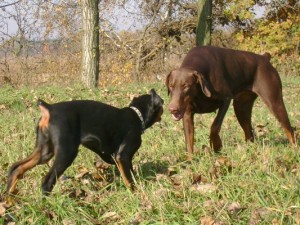 All our dogs are our family members (our family consists of father, mother, two children and two Dobermann females).All our activities are planned with respect to needs of our Dobermanns.Both girls are very friendly, so there is any problem.We live altogether in our house and girls can go in the garden, everywhere they want.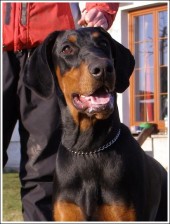 The Dobermann is the right dog for our all family. It is the most elegant breed, very sensitive, gentle companion, suitable for every kind of sport and very good guardian!
The objective of our kennel is to breed just standard or better puppies with high-quality pedigree. I am strongly against incest mating and close linebreeding or inbreeding. Our females have various health tests and I request the same within the stud dog. The Dobermann is a working breed and thus it should keep its working utility. That's why I dedicated myself to sport (schutzhund) and I am enjoying it a lot! But I am just a beginner. It is wonderful to watch an elegant and temperament working Dobermann!

 Of course our objective is to breed just the most quality puppies as possible in all respects.
When looking for the right stud I am always very focused and it takes its time to choose the right dog to my female... and a fair amount of good luck is necessary as well.
To fulfill this objective I pay attention to:
- At first place to a pedigree of the prospective stud and how it is balanced with the pedigree of my female. I am against incest matings and close inbreeding, however the excitement of its fans and its alleged "contribution" for breeding. Health effects of such mating come up very often and it is not the right way how to improve the breed nowadays. So I try to find the best non-inbreeding mating. I check the age of ancestors and the cause of their decease.
- The age of the stud and health tests (always HDA and heart medical check-up when choosing stud from abroad)
- Appearance: I like powerful dogs with strong head and I need them to fit to my female. Too big and too heavy dogs are preferred lately, but I consider it is not right. The Dobermann is a sport and elegant dog. It means YES for expressive and powerful dog, but in reasonable proportion. My first chosen stud – Grant di Villa Conte fits to my ideal. There is many studs with such appearance (or even better), and especially from abroad. But his pedigree, age and passed exams are his great qualities for me and that it is much more rare.
- Working (sport) results: I do not prefer just "beautiful" or "working" dogs. Of course the ideal is to know the stud personally; unfortunately it is not always possible.
- Offsprings: they speak for all :o)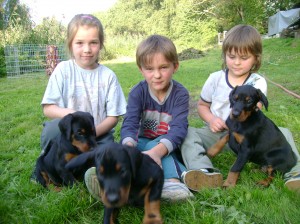 To joint all demands and desires is quite a tough task, but I think I made it out within our first litter. But the time itself will show the outcome. And me, the breeder, I will be happy if all my puppies will live their long life in the middle of their loving and content families, together with their masters. I wish many people could discover, what is to have the Dobermann, as I think it should be.
This is the objective of our Coldplay kennel. 
With love and passion for the breed,
Líba Lásková

I am a member of the  Czech Dobermann Club , I am in charge of the Club bulletin in the Club board.