---
exp. Czech Juniorchampion
exp. Czech Champion
National Winner 2009
* Afrika Coldplay *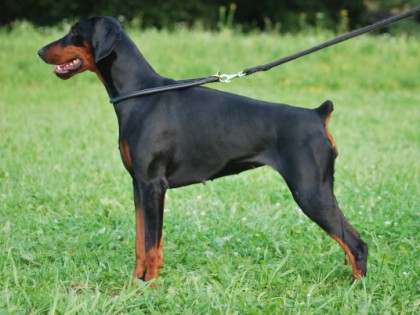 23months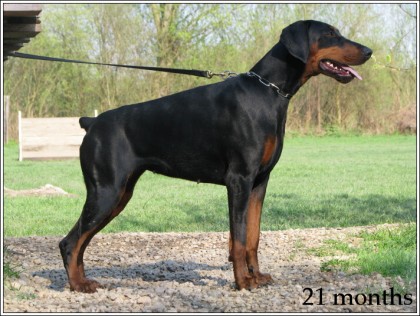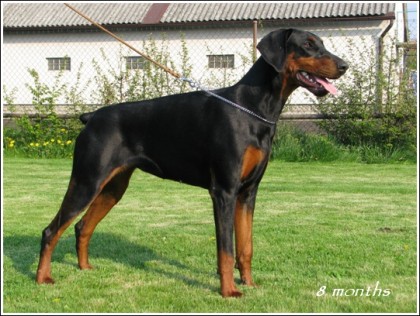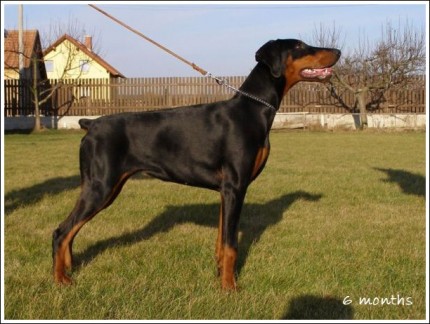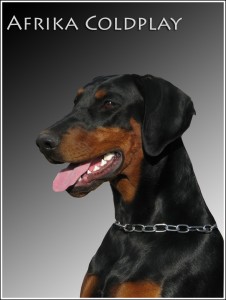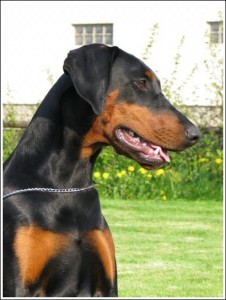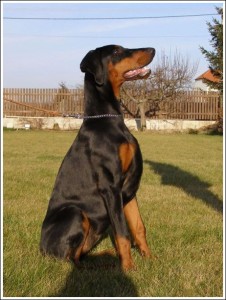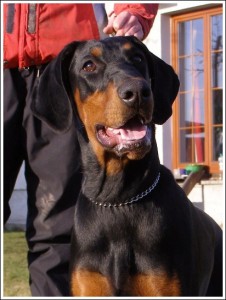 PEDIGREE

 

Ich. CH Grant di Villa Conte

 

Ich. Nitro del Rio Bianco
Nilo del Riobianco 
Farah del Riobianco
Petra di Villa Conte
Graaf Vito v. Neerlands Stam
Morgana di Villa Conte



Jch, CH Kelly Černý trůn

 

CH Nathan z Cyklonu Silesia
Balou v. Rezidenzschloss
Elegance z Cyklonu Silesia
Jilly Černý trůn
Wanja Wandor v. Stevinhage
Judyt Dunaxa
Whelped:  6.8. 2007
Afrika was born as the very first puppy in our kennel. We call her "Fina"...
Fina is very temperament and self-confident pup; she is alert, fast and curious. So far she fulfils all my expectations, what I desired. It appears she will be not just pretty but she is smart too, with the right Dobermann character of devilkin. Even if I am angry with her, she runs into me, wagging her tail. She is just kissable, although I wanted to "break her neck" at the moment :o).
Her training in defence and obedience is very easy, she is very very clever girl!!! I hope in her big future. You can see her videos from training here.
This year we start also with our show career:
Our first show report:
5,5 month old female with excellent gender expression, beautiful head, correct teeth, excellent top line, excellent leg angulation, nice movement.
Shows:
| | | | | |
| --- | --- | --- | --- | --- |
| Date | Class | Show | Judge | Result |
| 27.1.2008 | Baby | CACIB Trenčín, SK | Ĺ. Fintorová, SK | VP |
| 26.4.2008 | Youth | Special Show,Kamenný Mlýn, SK | E. Szokol, HU | VP3 |
| 14.6.2008 | Youth | Special Show, Sadská, CZ | V.Piskay,SK | Exc.4(from 14 entries) |
| 22.6.2008 | Youth | Regional Show,CZ | V.Beneš, CZ | Exc.1,Class Winner |
| 20.7.2008 | Youth | CAC Ml.Boleslav | L.Mach, CZ | Very Good |
| 31.8.2008 | Youth | CACIB Ml. Boleslav | MVDr. I. Lupeckova,CZ | Excellent |
| 27.9.2008 | Youth | CACIB České Budějovice | Andraš Polgar | Exc.1, CAJC |
| 10.1.2009 | Youth | CAC Olomouc | J. Němec | Exc.3 |
| 14.6.2009 | Interm. | CAC Klatovy | MUDr. V. Beneš | Exc.1, CAC, National winner |
| 13.9.2009 | Work | Club Show DKČR | Staviarska - SK | V3 |
| 20.9.2009 | Work | Club Show MSDK | M.Jablónska-PL | V1, CAC |
Work:

| | | |
| --- | --- | --- |
| Date | Exam type | Judge |
| 12.7.2008 | ZZO | P. Vyčítal |
| 13.10.2008 | ZOP | Plšek |
| 24.5.2009 | BH | p. Nedvěd |
| 11.7.2009 | ZVV1 (analogia of IPO) | p. Hammer |
| 18.10.2009 | ZPU1 | M.Martinů |
Health tests:
DKK 0/0 (HD-A)
ED  0/0
PHTVL/PHTV: free
Spondylose: free
Cardio: free (Doppler, Echokardio)- 5/2009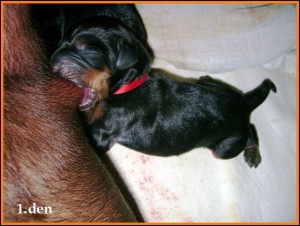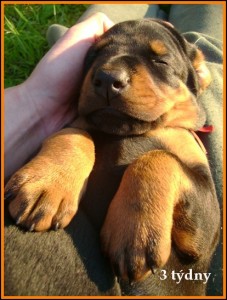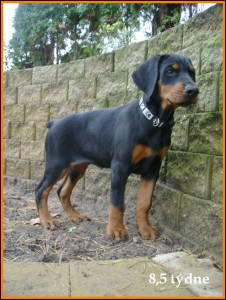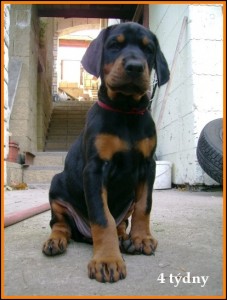 Photogalery of Afrika Coldplay